Benmar has been an award winning world leader in marine autopilots for more than forty years. During that time, Benmar engineers have gained valuable insight into the needs and expectations of boaters in regard to autopilot performance and longevity.
Unique Design -
No Rudder Feedback Device


Benmar autopilots are unique by design. No other autopilot uses Benmar's proprietary proportional rate system, the smooth, precise control method that steers your boat like you do, constantly making the gradual and intuitive rudder corrections necessary to keep on course. You can feel the difference, especially when encountering heavy following seas. Since Benmar's proportional rate system does not require rudder position feedback, automatic trim and counter rudder are inherent to all Benmar autopilots. As sea conditions, boat speed and side loads change, the Benmar autopilots automatically compensate for those factors. The result is a smoother, straighter course, time after time.

Proportional Rate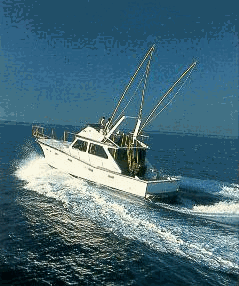 Benmar's proportional rate autopilots are easy to install and highly adaptable to a variety of applications including stern drive and outboard powered boats because there is no need for clumsy and fragile rudder feedback devices. On-course accuracy is additionally enhanced due to Benmar's specially designed magnetic card compass that is uniquely engineered for supervising autopilot operation.

Benmar is the world's most experienced manufacturer of marine autopilots. Each Benmar autopilot is designed and manufactured at Benmar's facility in Idyllwild, California.

Benmar . . . dependable, reliable, accurate and responsive . . . the best autopilot for your boat.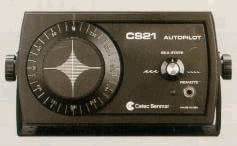 Course Setter 21

Specifications
Course Setter
21 (STD) & (SK)

Boat size

up to 150'

Power unit compatibility

all Benmars listed

Compass type

magnetic card

Compass accuracy

less than 1 degree

Supply voltage

12 VDC

Autopilot control loop

type I heading control loop, i.e., proportional rate

Rudder position feedback

not required

Autopilot mechanization

analog

Rudder rate

automatic variable

Navigation interface

N/A

Mounting

trunnion

Dimensions

11-1/2"L x 6-1/4"H x 5-9/16"D
Benmar Power Units
| | |
| --- | --- |
| | Mechanical |
| | STD |
| | For mechanically steered boats up to 42' w/up to 3-1/2 helm turns. Optional electric clutch must be used if PHC is CC220. |
| Specifications | |
| Input Voltage (VDC) | 12 |
| Current Drain, Amps avg. | |
| Cruise | 1 |
| Heavy Seas | 2 |
| Peak | 6 |
| Torque Output (in-lbs) | 120 |
| Max RPM | 12 |